16, 22 and 30 gauge wire
12 – 18 inches of medium link chain
12 – 25 medium size pearls (5mm – 10mm)
Beadalon® chain nose pliers
Beadalon® round nose pliers
Beadalon® flush wire cutters
Tip: You may need to use an electric reamer to make the holes of your pearls larger. Use the smallest reamer bit. Always keep it lubricated with water. Do not apply too much pressure. Alternate the sides of the pearl, reaming each side of the hole equally.
Wrapping the pearls:
Cut a 6 – 8 inch piece of 22 gauge wire, Straighten the wire with nylon jaw pliers to get out all the kinks and bends. Using chain nose pliers, bend a 90-degree angle at approximately one inch into your piece.
Point the short piece towards you. Using round nose pliers start to turn a loop by turning away from you.
Complete the loop by swinging the tail underneath the pliers. You'll now have a loop with a short tail.
Always connect your chain before you wrap. Then wrap the wire tail around the long piece 2 – 3 times.
Slide 2 – 3 pearls onto your wire. Then using chain nose pliers bend a 90-degree angle just above the pearls.
Just like before, turn a loop with a long tail
Always link on your chain before wrapping. Then wrap 2 -3 times in the space between your loop and your pearls, the around and down your pearls. You will also wrap around your previous wraps (from your first loop). Cut off the remaining tail as close as possible with the tip of the flush cutters.

The clasp:
Cut a 2-inch piece of 16 gauge wire and smooth out any kinks or bends using nylon jaw pliers.
Cut a 10-inch piece of 30 gauge wire and smooth out any kinks or bends as well.
Wrap the 30 gauge wire around the 16 gauge wire three times. Add a small accent bead and wrap three more times. Repeat this two more times.
Continue to wrap over and around your bead combination until the beads are securely fastened to the 16 gauge wire.
Using the wider end of the round nose pliers curve the ends of the 16 gauge wire in opposite directions, making an "S" shape.
Bend the ends of the wire back into little loops to finish.

Book: All Wired Up
www.thebeadfactory.com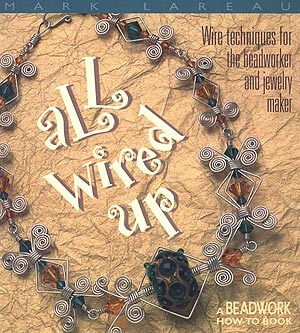 .