There are lots of exciting specialty findings on the market. In today's beading lesson, we'll show you some especially cool new clasps, accessories and components.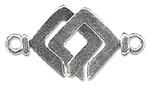 Duet clasps have two identical parts that fit together at the gap. They have a look that's similar to a toggle clasp, but it isn't necessary to add any extra length to allow for the parts to fit together.
Crimp ends fasten easily to beading wire. They have a coil in the center and two bars along the sides. Place the wire inside the crimp end, then use chain-nose piers or a crimping tool to squeeze the sides together.
Scrimps are similar because they're also really easy to attach to the end of a beading wire. Instead of squeezing them together, you just turn a screw.
Cell phone lariats are special findings that attach to the hook on your cell phone. You just thread the end of lariat through the attachment, then through itself. You can attach beads and charms to the end of the lariat to personalize your phone.
End connectors come in many different styles and make it easy to make pretty chandelier earrings. You can also use them to attach multiple strands to a clasp, making it simple to create multiple-strand necklaces and bracelets.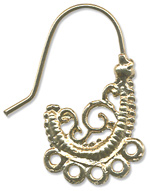 Paisley ear wires are special earring findings with loops across the bottom. Attach beaded head pins to create eye-catching earrings.
Crimp covers are special beads that are open on one side. You just slip one over a crimp and use a mighty crimping tool to close the cover. The crimp bead stays secure and is hidden inside!
Of course, with all of these new findings, you'll also need some cool organizers for storing them.
A storage ring is a space-saving way to store beads and findings. The compartments come apart so you can take them with you. You can even stack several rings and stash your tools in the center.
Craft kits are a clever way to keep all of your small beads and findings in one place. Each box keeps all of those tiny parts safe and secure and all of the boxes fit inside the carrying case. This is perfect for taking your beads on the go!