Indian leather cord is ideal for stringing large-hole ceramic, wood, bone or metal beads. It is soft, durable and easy to use and provides an inexpensive alternative to Greek leather.
A commonly asked question about leather is how to finish the ends. There are a variety of ways to attach a clasp.
To use a spring cord end, choose the size that fits the Indian leather cord. Place the spring onto the end of the cord, then use pliers to flatten the first one or two rings. Work your way around the ring to preserve the round shape. Pull the cord gently to make sure that the cord end is secure.
You can also use tube cord ends with Indian leather. Place epoxy or BeadFix™ glue onto the end of the strand, and then glue it inside the cord end.
You can also use spring spacers to secure the ends of Indian leather cord. String a large spring spacer onto the end of the cord and pass the cord back through it to create a loop on the end of the cord. Now attach the clasp to this leather loop.
To make a necklace without a clasp, string a pendant onto the center, and then tie the ends in adjustable knots. To tie an adjustable knot, overlap the ends by about 4". Hold one side of the overlap leaving about 1" available. Tie an overhand knot with the end piece around the adjacent part of the cord. Repeat with the other end of the cord. To adjust the necklace length, slide the knots back and forth.
Knots can also be used to make creative jewelry with Indian leather. A Lark's head knot can be used to attach a donut pendant to the center of a simple necklace. Overhand knots can dot leather strands with beaded dangles attached between each knot.
For more ideas and inspiration visit: www.katiehacker.com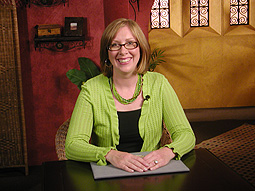 Katie Hacker