Bead Bumpers™ are tiny, stretchy beads that grip onto flexible beading wire and other stringing materials. Use them instead of knots or crimp beads to separate beads and add interest to jewelry designs. They're available in a variety of colors and shapes.
People traditionally string pearls and other precious gems onto silk cord because you can knot it and prevent the beads from rubbing against each other. Bead Bumpers™ are so much easier and serve the same purpose! They even resemble tiny knots. Can you tell the difference between the knotted design and the Bead Bumpers™ design?
You can also use Bead Bumpers™ instead of crimp beads to create an illusion or tin-cup style necklace. Just slide a bumper onto the beading wire, add a beaded section and string another Bead Bumpers™. You can glue them in place for extra durability. This technique even works with memory wire.
You can also use Bead Bumpers™ as design elements for other types of jewelry. This pair of earrings features a coordinating bead on the ear wire itself. The bead is held in place with Bead Bumpers™. The beads on the hoop earrings are also held in place by Bead Bumpers™.
For more ideas and inspiration visit www.katiehacker.com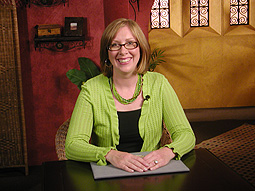 Katie Hacker