Drilled cubic zirconia gems (CZ-Gem Dropz™) are some of the newest sensations to hit the jewelry-making world. Their brilliance makes them an affordable diamond substitute that can add a lot of splash to your beaded creations.
CZ-Gem Dropz™ are available in a variety of shapes and colors. They offer all of the brilliance of a set stone without the intricate stone-setting process. Some stones have one hole for hanging and some are double-drilled.
You can use a lightweight jump ring to attach a CZ-Gem Dropz™ to any jewelry design. They make gorgeous pendant and earring dangles and can be combined with geometric findings, chain and ring end connectors for simple but beautiful effects.
Combining a variety of linked CZ-Gem Dropz™ creates a dazzling look. Double-drilled gems form the stunning centerpiece of this dramatic necklace. They can also be connected together to create beautiful chandelier earrings or clustered together to make a sparkly bling ring.
CZ-Gem Dropz™ can also be used to enhance intricately beaded designs like this necklace. The thread passes through the hole on the cubic zirconia gem and passes back through each piece of fringe. The same technique can be used to make beaded edging for fabric. Double-drilled CZ-Gem Dropz™ also make beautiful fabric embellishments.
Fans of traditional beadwork can also enjoy some of their fabulous sparkle by creating beaded bezels or working CZ-Gem Dropz™ into other intricate seed bead designs. Cubic zirconia gems can also be fired into Precious Metal Clay or baked into polymer clay.
For more ideas and inspiration visit www.katiehacker.com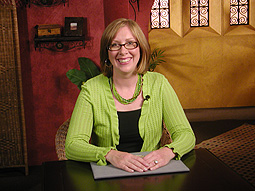 Katie Hacke