Multiple strand designs can be intimidating, but they're really very easy to make when you have the right tools.
A bead board allows you to arrange the pattern and of the strands before you string the necklace or bracelet. Use the measurements along the side of the channels to help with even spacing and length.
Once the beads are arranged, you'll need to add a clasp. There are several ways to attach a clasp to a multiple strand design.
You can attach the strands to a multiple strand end connector and then attach that component to the clasp.
Or, you can use a clasp that has multiple loops built right in. A slide clasp uses a secure spring friction mechanism to hold together the ends of a multiple strand design and gives a design a very fresh, contemporary look.
For a more romantic look, you could use a filigree box clasp with multiple loops. The wire passes through the loops on the clasp and back through a crimp to attach it.
An EZ-Crimp™ multiple strand is another option. The clasp is attached to several EZ-Crimp™ ends that you fasten onto each end of the necklace or bracelet. Place the wire inside the crimp end and use EZ-Crimp™ pliers to squeeze together the sides of the finding.


For more ideas and inspiration visit www.katiehacker.com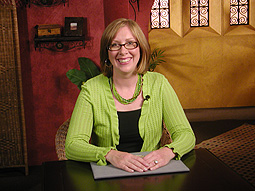 Katie Hacker