Silver beading wire adds a beautiful metallic touch to your beaded jewelry designs. It's good for designs where the wire is exposed or it can be used to add value to your creations. There are several different styles of silver Beadalon® beading wire.
Beadalon® sterling silver beading wire is made of miniature strands of .925 solid sterling silver wires that are twisted together. A thin, clear layer of nylon covers the 7-strand and 19-strand variations to prolong strand life and prevent kinking. It adds an extra level of quality for the beading purist.
Sterling Silver Beadalon® beading wire is best for lightweight, precious beaded jewelry. For designs that will receive more heavy-duty wear, it's best to stick with nylon-coated stainless steel beading wire. Sterling beading wire is available in a variety of diameters, which you choose based on the hole size of the beads you're using.
For an item to be considered sterling silver, the silver content must be at least .925%. Less expensive options include fine silver plated wire and silver colored beading wires. Choose sterling silver beading wire when only the pure precious metal will do.
Fine silver-plated Beadalon® wire combines the flexibility and strength of stainless steel wire with the luster of precious metal. This is a great alternative for jewelry designers who want the quality of fine silver but need the additional strength and durability of stainless steel.
Silver color Beadalon® wire is a value-priced metallic beading wire. The stainless steel strands are coated with a mixture of tarnish-resistant metals and precious silver-plating for a more affordable wire that mimics the appearance of sterling silver. It has a slightly lower breaking strength than other beading wire in the same diameter and construction.
Satin silver Beadalon® wire has a soft, silky feel and a unique matte finish. The satin color provides a lovely contrast to sparkly crystal beads and offers a nice alternative to regular beading wire.
In addition to the color of the wire, you must also take a variety of other factors into account to determine which beading wire would be best. The number of strands determines the flexibility with 49-strand being more flexible than 19-strand and 19-strand being more flexible than 7-strand. Choose the diameter of the Beadalon® beading wire based on the size of the bead holes.
For more ideas and inspiration visit www.katiehacker.com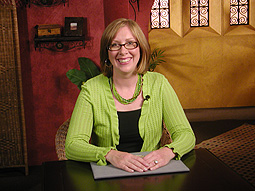 Katie Hacker