Have you ever finished making a necklace and then decided to use a different clasp? If you use a Scrimp™ finding to attach the clasp, it's easy to change it later.
When you attach a clasp using traditional crimps, the clasp is impossible to remove. Instead, you can use a special Scrimp™ finding to attach a clasp. A Scrimp™ finding contains a miniature screw. The screw holds the beading wire securely in place but it can be removed if adjustments need to be made.
Several different styles of Scrimp™ findings are available, including silver and gold plated bullet shapes, ovals and spheres and sterling ovals. Each one has the same tiny set-screw. You'll need a small screwdriver to attach Scrimp™ findings. Use the screwdriver to loosen the screw before attaching it to a jewelry design.
Use a Scrimp™ finding in conjunction with a Wire Guardian™ for an extremely secure connection. This is especially important for particularly heavy or everyday wear designs. A Wire Guardian™ is a small hollow loop that fits over the end of beading wire where it attaches to a clasp. A Wire Guardian™ prevents abrasion and breakage. To use a Wire Guardian™, pass the beading with through the Scrimp™ finding, Wire Guardian™ and clasp. Then pass the wire back through the Wire Guardian™ and Scrimp™ finding. Turn the screw to secure the Scrimp™ finding in place.
The screw holds both wires securely inside the Scrimp™ finding to provide the most secure connection between beading wire and clasp. Once a design is finished, the clasp is still completely removable. Just turn the screw in the opposite direction to remove it and release the beading wire. This makes it easy to make adjustments to a finished design. If you prefer to make the Scrimp™ finding permanent, you can add a drop of BeadFix™
glue.

For more ideas and inspiration visit www.katiehacker.com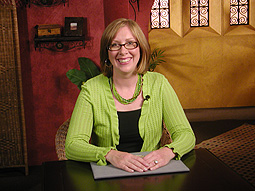 Katie Hacker