.018 - 19 strand beading wire 18FI295-30
14 Sterling Silver Crimp Bead Covers 3.5mm FI169-SS
14 Crimp Tubes 2mm FI163-SPL
5 Loop Sterling Silver Clasp SS813-5
4 Loop Sterling Silver Clasp SS813-4
Crimping Pliers FI404
Flush Cutters FI4006
150 6MM Glass Pearls White 6GP612-T
150 6MM Glass Pearls Pink 6GP692-T
150 6MM Glass Pearls Rosy Pink 6GP690-RT
150 6MM Glass Pearls Apricot 6GP635
150 6MM Glass Pearls Light Amethyst 6GP396-T
Optional but handy
Chain Nose Pliers FI460
Multi-strand Layout Board FI415-L
Bead Stoppers MS606

Determine the length of the shortest strand and cut a length of beading wire at least 6 inches longer. For each of the other stands cut the beading wire at least 2 inches longer.
In this project you would cut one each of 28, 30, 32, 34 and 36 inches.
Using your shortest length of beading wire start from the center and string 5 Apricot pearls, 6 amethyst pearls, 6 rosy pink pearls, 6 white pearls, 6 pink pearls, 6 Apricot pearls, 6 amethyst pearls and 4 rosy pink pearls. Repeat for the other side. Attach a bead stopper at each end to keep beads from coming off the beading wire.
String each strand the same but increase the number of beads at the each end by 2 keeping the color pattern in mind.
Attach each strand to the 5 strand clasp using the crimp tube and cover with a crimp cover. Check carefully that the strands are attached in the proper order.
4 strand Bracelet
Cut 4 lengths of beading wire 13 inches long. Layout and string the beads in a sequence that echoes the necklace. Attach to clasp in the same fashion as above.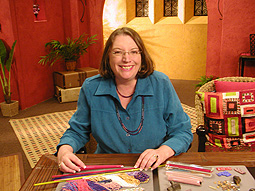 Carol Bauer