If you're looking for a quick and easy way to make a necklace, get a jumpstart with these fun ideas.
For a simple cable or snake chain necklace, string a pendant onto the center of the chain. To finish the ends, attach a fold-over clasp. You can flatten it with pliers, but you'll get a better-looking finish by using a crimping tool.
Lay the chain inside a fold-over end, and then use the tip of the crimping tool to fold one flap snugly against the chain. Fold the other flap over to shut it. Next, use the inner jaw of the crimping tool to make a crease in both of the folded flaps. This will ensure that the chain is nice and secure inside the finding. Then, you can use jump rings to attach the clasp to the loops on the fold-over cord ends.
You can also use Bead Ready™ beading wire kits to get a jumpstart on your jewelry projects. Half of the clasp is already attached to one end of a piece of beading wire. Add beads to the Bead Ready wire in any configuration, and then use EZ-Crimp™ Pliers to attach the other half of the clasp. EZ-Crimp™ Pliers are special piers that have a notch in the jaws. Place the end of the beading wire into the EZ-Crimp™ end, then use them to press together the sides of the finding.
Satin cord makes a simple backdrop for a pretty pendant. Use epoxy to attach tube cord ends, and then attach the cord ends to a clasp.
One more quick idea is to cover memory wire with velour or rubber tubing. Just glue a memory wire end cap onto each end for an easy, stylish choker.

For more ideas and inspiration visit www.katiehacker.com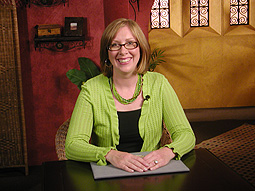 Katie Hacker