Shipwreck Beads materials
20 gauge silver or Artistic wire – or combination of metals – 5 feet
Silver (18CW811-SS)
craft wire metal finish (20CW812 - 20CW856)
Hand (PW325-S)
Chinese symbols (PW580-S – PW591-S)
Hishi copper small ring beads (TR38 AC)
Metal Beads – discs (ME917)
Pewter beads and charms - leaf (PW566-S)
Swarovski cut crystal beads (3CR – 96 CR – variety)
Bead spacer sterling (4F195-SS)
Natural beads - wood (70WO151) coco hishi – (5SH156)
Shell – (96SH653)
Copper ring – (PW2099-C)
Silver jump rings – (4FLI206-1SS)
Headpins - (27FI61-1SS)

Tools

Metal snips or cutters
Beadalon® Wire cutters
Beadalon® Round nose pliers
Beadalon® Chain nose pliers


Instructions:
STEP #1 - Lay out design and arrange the charms beads in the order you want them to be on the necklace.
STEP #2 - Cut wire in 2-3 inch lengths.
STEP #3 - Attach a charm on one end of the wire with a wrapped loop connection. Add beads on to the wire then make wrapped loops on the other end of the wire.
STEP #4 – Make some of the charms by threading the organic beads onto headpins and finish by making a wrapped loop on the opposite end of the head pin.

STEP #5 - Adding jump rings to some of the wrapped loops and purchased charms can add movement to your charms before you assemble them onto the chocker.
STEP #6 - Begin to assemble the charms on the necklace chocker by threading the wrapped loop charms on the chocker.
STEP #7 - Use spacers, beads or other charms in between the wrapped loop charms.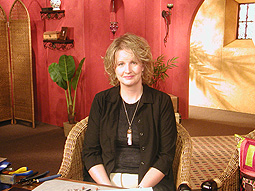 Mary Hettmansperger