Organza ribbon and velour tubing are two great ways to add texture to your jewelry designs. You can use them as the foundation of a necklace design or you can use them as embellishments.
For a simple necklace, add a pendant to the center of the ribbon and attach a clasp to the ends. To attach a clasp to organza ribbon, you can knot it directly to a clasp. Add a drop of jeweler's cement to the knot for extra security. Use a fold-over cord end for a flatter finish or tuck the ribbon inside a tube cord end and use Beadfix glue to adhere it.
To string pearls or other beads onto organza ribbon, you'll need to use a collapsible eye needle. This needle has an eye that's large enough to contain the ribbon but small enough to pass through most bead holes. If the bead holes aren't large enough, you can always use a bead reamer to make the holes bigger.
You can add ribbon to jewelry designs in a variety of ways.
To use velour tubing as the foundation of a necklace, you'll need to add a clasp to the end. You can use a claw end squeeze clasp, which you attach by fastening the claw onto the end of the tubing. Or, you can glue a tube cord end onto it. A stainless steel fold-over clasp is another option. You just place the end of the tubing into the clasp, and you're all set.
You can slide velour tubing over the top of another type of stringing material such as beading wire, memory wire or over findings like head pins and eye pins. It adds a super soft texture and allows you to use small-hole beads that would never fit on this diameter of cord.
Since velour tubing is hollow, it allows for some very creative possibilities. Think of the entire surface as a canvas for your designs!

For more ideas and inspiration visit www.katiehacker.com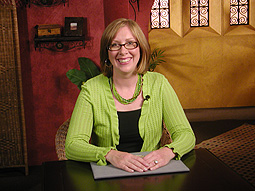 Katie Hacker