Material needed
24 gauge copper sheet – 3x3 inches
Shipwreck Beads materials
20 gauge silver or Artistic wire – or combination of metals – 5 feet
Silver (18CW811-SS)
craft wire metal finish (20CW812 - 20CW856)
Hand (PW325-S)
Chinese symbols (PW580-S – PW591-S)
Surfboard (PW5199-S)
Gunmetal jump rings (FI208-TS)
Hishi copper small ring beads (TR38 AC)
Metal Beads – discs (ME917)
Pewter beads and charms leaf(PW566-S)
Swarovski cut crystal beads (3CR – 96 CR – variety)
Bead spacer sterling (4F195-SS)
Natural beads - wood (70WO151) coco hishi – (5SH156)
Chain (CX810 – 855 – variety)

Tools

Hammer and anvil
Metal snips or cutters
Metal hole punch
Beadalon® Wire cutters
Beadalon® Round nose pliers
Beadalon® Chain nose pliers



Instructions:
STEP #1 - Cut from the copper sheeting 1 piece ½ inch x ¼ inch x 1 ½ inch piece with rounded edges. This piece will be used as the top for the cascading wire work necklace.
Cut 3 small random shapes, charm like pieces.

STEP #2 - Hammer (forge) edges to create a deckled effect on all the cut copper pieces.

STEP #3 - lay out design and arrange the charms beads and copper in the order you want them to be on the necklace.

STEP #4 – Cut wire in 2-3 inch lengths.

STEP #5 - Begin to assemble the necklace by making wrapped loops on one side of the length of wire. Thread on beads and make another wrapped loop on the other end.

STEP #6 - Add the copper by punching 2 holes on each end of the pieces and connecting them to the wrapped loop segments.

STEP #7 - Connect the segments together by wrapped loops adding beads crystals.

STEP #8 - Once the charms or forged copper are added to the ends of the cascades, punch holes on the top edge of the copper to hold the neck chain.

STEP # 9 - Cut length desired for the neck chain and attaché to the copper piece with jump rings.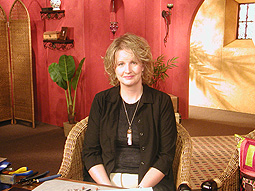 Mary Hettmansperger