Wooden organizers are a stylish way to keep your tools and supplies at your fingertips. Place spools in the vertical bins and hang pliers and cutters across the back. Use the drawers for extra storage and organization. You can use a single unit by itself or stack it onto modular drawers for more storage.
A sturdy zippered pouch is a practical and durable way to store tools away from your work surface. Use a small one to hold tools by themselves, or use a larger one that has space inside for other supplies.
Storage rings, stack drawers and stackable containers are all space-saving ways to store beads and findings. The lids lock in place to prevent tiny beads and findings from escaping and help prevent tarnish. The compartments come apart so you can take them with you. You can even stack several storage rings together and place your tools in the center.
Use bead boxes to store beads by color and style. You can even use them to organize particular projects.
Travel organizers are special bead carriers that contain a variety of small boxes. They're perfect for organizing your work area and they make it easy to take your beads on the go.
When it's time to tally and organize beads, you need a bead counter! This handy little invention is easy to use and is totally portable so you can even take it with you when you shop. They're available in different sizes to accommodate different sizes of beads.
To use a bead counter, pour the corresponding size of beads onto the counter. Hold the counter over a bead mat or box to catch any extra beads. Carefully shake the counter so the beads slide into the holes and any extra beads slide off of the counter. If you want to count smaller quantities of beads, you can just cover some of the holes with tape.


For more ideas and inspiration visit www.katiehacker.com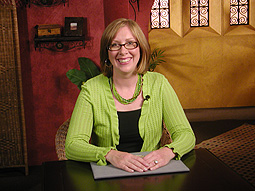 Katie Hacker