We all know that chain is popular in jewelry making. Polyester chain is one of the hottest new chain trends and we're going to show you a variety of ways to incorporate it into your jewelry designs.
Polyester chain is lightweight and is made of polyester fibers that are fashioned into cable chain. It can be used in place of metal chain and is great for big, bold designs without the extra weight. It's also perfect for chain designs that require a dash of color.
Head pins can be used to attaché geometric shell beads evenly spaced across the polyester chain. Layer more beaded head pins onto the chain link. The tiny balls on the ends of the head pins add an extra, decorative touch.
You can use jump rings to attach a clasp to the ends or you can use a fold-over clasp. To use a fold-over clasp, just place a chain link inside the jaws of the clasp. Pull gently to make sure it's secure. You may need to use chain nose pliers to squeeze the jaws together.
A super long necklace can be mixed with metal chain with polyester chain. The chain sections are linked together using beaded eye pins. The colored polyester chain really draws your eye and keeps the entire design fairly lightweight.
Earrings use pinch bails to connect the polyester chain to the ear wire. A pinch bail is a u-shaped piece of metal with a ring on one side. Use your fingers to pinch the bail closed and attach the chain, then string it onto an ear wire. Add a wire-wrapped dangle to the other end to complete the look.
Since polyester chain is fibrous and pliable, you can also use it as the foundation for intricate seed bead designs. Or, you can use it to spotlight seed bead designs.


For more ideas and inspiration visit www.katiehacker.com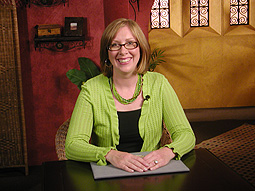 Katie Hacker