In this Beading Lesson, we'll show you some neat new ideas for beads on the go.
A traveling tool kit is an absolute must-have. It ensures that you always have what you need. A basic kit should include chain nose pliers, round nose pliers, wire cutters and any other tools that you use frequently.
A sturdy zippered pouch is practical and durable for beads on the go. It protects your tools and prevents them from damaging any of your other supplies. Use a small one to hold tools by themselves, or use a larger one that has space inside for other supplies. Both are convenient because you can just zip them up and toss them into your beading bag.
A velvety tool roll has a pocket for each tool. Fold the flap down to hold the tools in place, then roll it up and tie everything together in a pretty little package.
A bead carrying case is also handy for traveling. This one has a variety of small boxes inside to store and organize your beads and findings, along with a scoop. Look for travel sizes of glues, rulers and other necessities and store them inside the larger boxes in the case.
Storage rings, stacking drawers and stackable containers are a great way to organize your beads and findings for travel. The compartments seal tightly and they pull apart, making it possible to take just a few sections with you at a time.
A bead mat and a bead board are also good traveling companions. Place them inside a tray to prevent beads from rolling around and to contain your projects while you're on the go. Use the bead board for planning and measuring designs before you string them.


For more ideas and inspiration visit www.katiehacker.com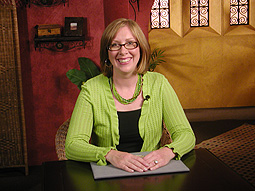 Katie Hacker