Fold-over or "buckle" style clasps have a very flat profile that makes them especially nice for bracelets, watches and streamlined necklace designs where you want the clasp to lay flat against the inside of the wrist or the back of the neck.
To open a fold-over clasp, place your fingernail under the notch and pull upward. To fasten the clasp, place the hinged piece through the loop and buckle it shut. This is a very secure clasp that won't open unexpectedly.
This particular style of fold-over clasp is made of stainless steel and has a special finding on each end that connects directly to tubing, cord and other thick stringing materials. Simply pass the material inside the clasp, where it's caught and held in place by small metal teeth.
You can also use this stainless steel fold-over clasp with polyester chain. Just place one end inside half of the clasp, where the small metal teeth catch it and hold it in place.

For more ideas and inspiration visit www.katiehacker.com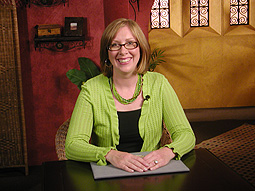 Katie Hacker