Are you still wearing a plain old watch? Well, it's time for a change. Beaded watches are hot and there are lots of cool ways to create your own.
For a basic multiple strand watch, you can attach pieces of beading wire to the loops on each side of the watch face. We've used Wire Guardians to protect the wire as it passes through the loops and then used Scrimp findings to attach the wire. Next, we created a beading pattern on the wires, using spacer bars to maintain even spacing between the strands and then attached a multiple strand clasp to the ends.
This funky watch uses the center loop on the watch face to attach the beaded band. Knot stretchy cord onto the center loop and add beaded dangles to the outer loops. This is a fun way to take advantage of the multiple loops on the watch face without making a more intricate watch.
This multi-chain watch is a fresh take on the mixed media look. Different styles of chain are attached to the loops using jump rings. Beads and other trinkets are attached to the chains using head pins and jump rings.
You can also stitch the loops of the watch face to a leather cuff. Place the watch on the center of the cuff and use an awl to make holes in the leather cuff. Use a needle and beading thread to stitch the loops to the cuff, then add beaded fringe on top of the loops.

For more ideas and inspiration visit www.katiehacker.com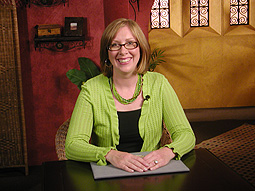 Katie Hacker