There are so many different earring findings available these days that it can be hard to choose! Here's an overview of several different styles:
French ear wires are the foundation for basic earrings. They have a hook at the top to fit through the ear and a loop at the bottom to attach to a beaded dangle. They're available in several different styles. Dapped ear wires are shorter and keep the earring design closer to the bottom of the ear lobe. Ball & spring ear wires are longer and allow the design to hand down further.
Leverbacks are similar to French ear wires but they have a closure on the back to prevent them from falling out of the ear. You can add your own beads to plain leverbacks for a designer look.
Kidney ear wires have a hook on the back that prevents them from falling out of the ear. These are larger than ordinary ear wires, so they also add a dramatic touch by allowing the dangle to fall farther away from the ear lobe.
Modern ear wires are a sleek, contemporary version of traditional French ear wires. The attachment hole is smaller, so keep that in mind when designing your earrings.
Paisley ear wires have a French hook at the top and a paisley design along the lower portion. Add beaded head pins to create dramatic, dangly earrings.
Ear posts fit closely against the ear lobe and are fastened in place with a butterfly earnut. Decorative posts add interest to a design and are especially helpful for larger, heavier earring designs. The extra surface contact prevents the earring from pulling solely on the hole in the ear lobe.
Beading hoops are available in a variety of sizes and can be used to make quick hoop earrings. Add beads and dangles to the hoop, then kink the end of the hoop to prevent the beads from sliding off. Slip the kinked end through the ear and fasten through the hole in the hoop.

For more ideas and inspiration visit www.katiehacker.com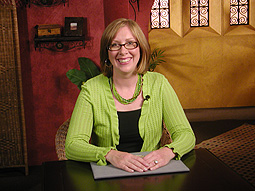 Katie Hacker